Nazmul Sunny:
President of Barisal Online Press Club and Barisal Online Journalists Union, Joint-Editor of Barisal Metropolitan Press Club, News Editor-in-Chief of Daily Shahnama, Bureau-Chief of rupali Desh and Barisal Bureau Chief of Daily Khabarpatra , Publisher & editor barisal khabar Mamunur Rashid Nomani. He joined journalism in 2001 in Barisal. Now he is working in numerous online media including top news. Has been working diligently for 21 years as the Chief News Editor of Barisal Daily Shahnama. He is also currently the head of the bureau of the online news portal bibek barta and the daily newspaper. He is associated with various social and non-political organizations including Barisal Online Journalists Union, Bangladesh Online Journalists Association, Bonpa. Has spent 21 years of his life in journalism. Sher-e-Bangla Socio-Cultural Foundation, Bangladesh Human Rights Monitoring Forum and Sher-e-Bangla AK Fazlul Haque Smriti Foundation and Seba have twice honored him with Sher-e-Bangla Medal for his significant contribution in online media. He has also received numerous honors from various social and media organizations.

Mamunur rashid Nomani is working tirelessly for the welfare of online journalists and for the improvement of the quality of journalists. Mamunur Rashid Nomani is moving forward with his talent and concentration. He does any work with the highest efficiency. At the time of birth, he brought with him extraordinary organizational skills. As a skilled organizer, he is leading the development work of the society and the country. A living legend of great interest and success in any organizational work. In this he fell in the eyes of everyone. Each of his programs is like a success story He has won the hearts of everyone by using his skills efficiently. Nomani's Facebook ID and online chat where all his writings and pictures. He has always kept his signature in print and online magazines.
He is the founder and administrator of Friends for Life, a popular Facebook group. Friends for Life is one of the millions of groups on Facebook. He is also the Managing Director of Smart Bag Barisal. It may be mentioned that on 4th June, 2014 at 4:30 pm in the auditorium of Bangladesh Shishu Kalyan Parishad, the Society for Eco Social and Basic Awareness Service awarded the Sher-e-Bangla Medal to Mamunur Rashid Nomani for his contribution in online journalism.
Sher-e-Bangla Life and Work on the occasion of 142nd Birth Anniversary of Sher-e-Bangla AK Fazlul Haque organized by Sher-e-Bangla Socio-Cultural Foundation, Bangladesh Human Rights Monitoring Forum and Sher-e-Bangla AK Fazlul Haque Memorial Foundation at Barisal Town Hall Auditorium on Saturday 31st October 15 The medal was given to Mamunur Rashid Nomani at a discussion meeting and meritorious reception.
Organizational Position Status:
Information and Technology Secretary: Barisal Editor and Publishers Council.
Joint Editor: Barisal Metropolitan Press Club, Barisal.
President: Barisal Online Journalists Union.
President: Barisal Online Press Club.
President: Bangladesh Online Journalists Association (BOJA) Barisal Divisional Committee, Former Treasurer, Barisal Journalists Union. Former Library Secretary, Barisal Press Club. Secretary General: Barisal Conscious Citizens Movement.
General Secretary: Barisal Human Rights Foundation.
Executive Director: FFL BD Foundation:
Executive Director: FFL Youth Foundation.
General Secretary: Friends for Life Cooperative Society:
CEO: Barisal Market.
Journalism Training :
1. Bangladesh Press Council
Participated in a workshop on Code of Conduct for Journalists and Newspapers on March 21, 2009 in Dhaka.
2. Bangladesh Press Institute (PIB)
Training on Reproductive Health and Environment and Gender Issues in Dhaka on 16th-17th of 2004.
Training on Gender, Reproductive Health and HIV / AIDS in Barisal on 18-20 January 2004.
Reporting training on RTI, HIV / AIDS in Dhaka on 12-14 July 2005.
Reproductive Health and Gender Reporting Training on 30-31 January 2006 in Dhaka.
Reporting Training on Barisal Bird Flu on 25-26 December 2006.
24-25th Barisal Environment and Remote Reporting Training of 2006.
March 26-30, 2009 Reporting Workshop on CRC CDO and Mina in Khulna.
3. News Not Work
Participated in Barisal News Writing and Human Rights Reporting Workshop on 8-10 April 2003.
4. Distance Management Bureau
Attended Disaster Management Workshop on 26 September 2005.
5. Mass Line Media Center (MMC)
Participated in Barisal issue based fruit-up / higher training on 10-18 February 2004.
Participated in feature writing training on 1-2 March 2005 in Dhaka.
. Bangladesh Betar, Barisal
Winner of Outdoor Concert at Dakshiner Duaar in January 2005.
. Bangladesh Environmental Lawyers Association (spoken)
Participated in the reporting workshop on Environment and Environmental Law in Barisal on 20-21 August 2006.
Also participates in workshops, seminars, trainings on various topics including Environment, Health, Digital Marketing, Online Journalism, Gender, Op Information, Commerce others training।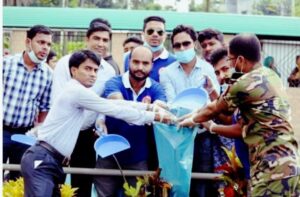 Honors: Achieved Sher-e-Bangla Honors Medal twice in local Journalism and Online Journalism.